Play Store plagiarism
Posted on August 12, 2015
I recently contributed some bug fixes to the open-source Android game "AndroFish." The app developer, Ferenc Hechler, accepted my contributions, and published a new version to the Play Store.
However, shortly after he submitted the new version to the Play Store, Google took AndroFish down. (At least, they took down the current version. They left up an old version meant for Android 1.5 devices.) They told him:
This is a notification that your application, AndroFish, with package ID de.hechler.andfish, has been removed from the Google Play Store.

REASON FOR SUSPENSION: Your app is in violation of the intellectual property and impersonation or deceptive behavior provisions of the Content Policy.

If you have the owner's permission to use this content, please submit an appeal through our App Developer help center and attach verifiable and accepted proof of permission.
Note how the only appeal process is for "if you have the owner's permission." There isn't an appeals process for "if you really are the owner, dammit!"
And I love how vague they are about whose IP they think you're infringing.
However, I did some digging on the Play Store, and it appears that someone named "wappier" plagiarized Ferenc's app: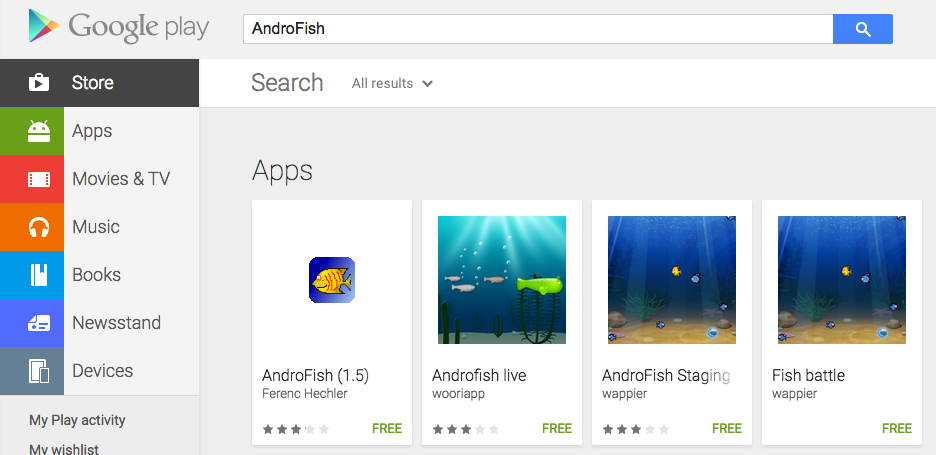 I can only assume that "wappier" turned around and accused Ferenc of plagiarism instead, and Google was dumb enough to fall for it, just like they did when Scripps Local News accused NASA of stealing footage from Mars. I mean, only the Russian and European space agencies would be in even a vaguely plausible position to say, "You stole our footage of Mars." WTF, Google, unless the E. W. Scripps Company has a secret space program we've never heard of?
This certainly discourages me from contributing to Android apps, or from putting my own apps on the Play Store. Sadly, though, Android is still the most open phone operating system that has any degree of traction.
Luckily, AndroFish is still available on F-Droid.
Update: Ferenc told me it's actually this duplicate app that's claiming that it is the original and AndroFish is the copy.