Gluten-free at Disneyland
Posted on June 12, 2016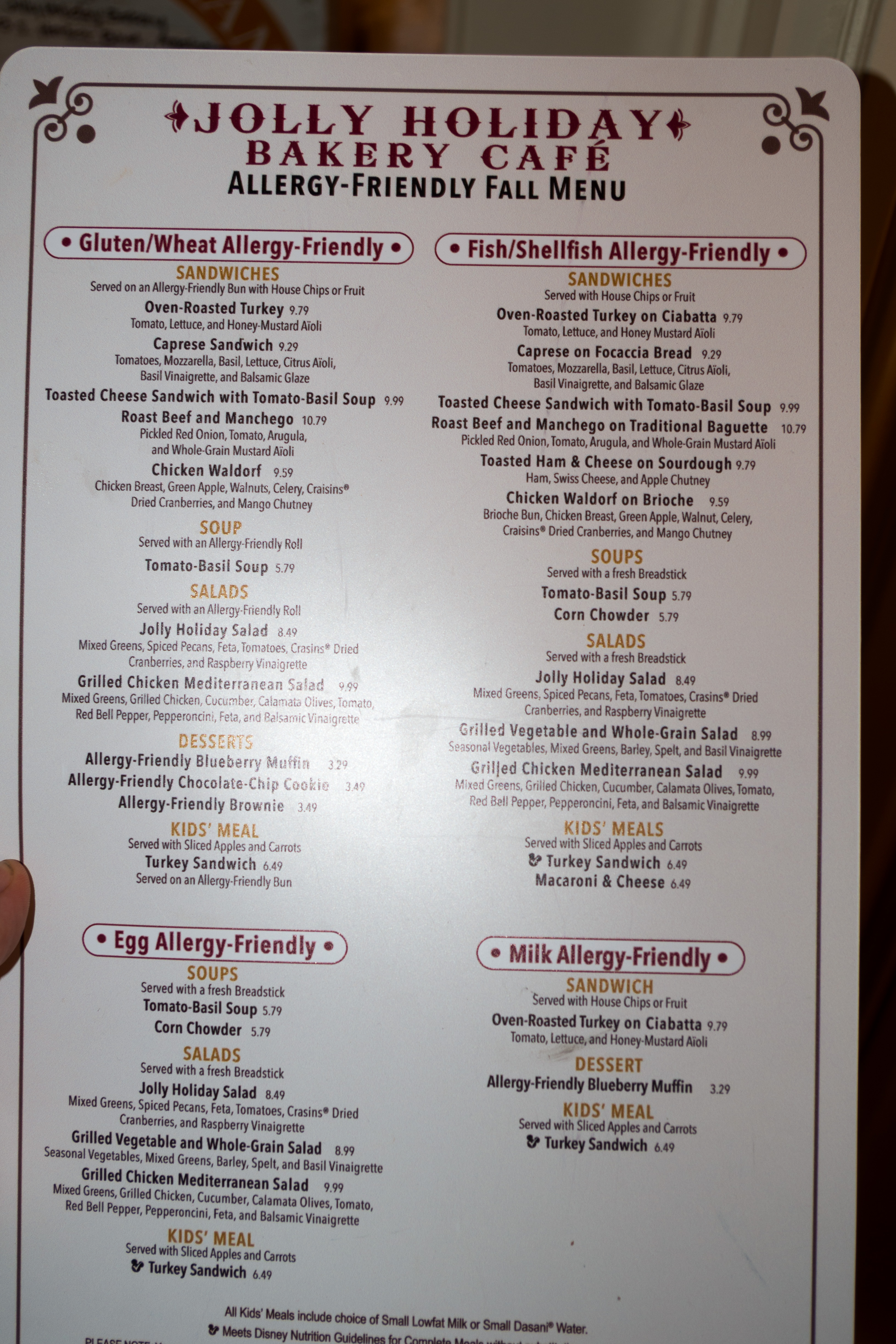 First off, I'd like to say that Disneyland is a great place to eat gluten-free. Pretty much every restaurant at Disneyland has gluten-free options. (For example, all the hamburger places offer gluten-free buns.) I'd like to applaud Disneyland for having so many good gluten-free options. (And this applies to other allergies like soy or dairy, in addition to gluten.)
That said, ordering gluten-free food at Disneyland has been, and continues to be, more difficult than it needs to be. I'd like to be able to just say, "I'd like to have my hamburger on a gluten-free bun," and have that be the end of it.
It used to be that the experience varied greatly from one restaurant to another within Disneyland. At Taste Pilots' Grill (now Smokejumpers Grill), it was usually pretty easy. At Tomorrowland Terrace (now Galactic Grill), as soon as I said "gluten-free," the person behind the counter would immediately run off and get the "chef," and I would have to repeat my whole order to him. And at Hungry Bear, when I ordered a gluten-free burger and a bottled water, they put the burger on one tray, and the water on a seperate tray by itself. "We can't put anything else on the same tray as your gluten-free burger," they said.
In some ways, the situation is now improved. Each restaurant has an "allergy menu," available on request, which lists all the available options for various allergies. I like that there's more consistency across restaurants, and it's (somewhat) easier to find out what the options are.
However, unlike the "normal" menus, which are available online, the "allergy" menus are not online and are only available on request at the restaurant. That makes it hard to choose a restaurant, since I don't know what's available, unless I've been to that restaurant before and can remember what was on the allergy menu.
Also, the existence of the allergy menus is not widely publicized. On my most recent trip to Disneyland, I met a family with a gluten-free daughter, who had been eating the regular food (and suffering ill effects from it) because they had no idea gluten-free options at Disneyland existed.
They're still unnecessarily pedantic. At Smokejumpers Grill, I ordered a bacon cheeseburger on a gluten-free bun, and they said, "We can't do that, because bacon cheeseburger isn't on the allergy menu. However, you can get a gluten-free cheeseburger from the allegy menu, and then add bacon." Okay, that sounds like the same thing to me.
They also still ask an annoying question they've always asked, "Is that an allergy or a preference?" My acupuncturist called it a sensitivity, my nutritionist called it an intolerance, and my doctor said it's really an allergy, but that I should tell them it's not. Whew! Too confusing for me to get into every time. Can't I just specify what, and not why?
And yet, when I ordered off the gluten-free menu at Galactic Grill on my most recent trip, they still gave me a regular hamburger. (The way to tell is how long it takes. The gluten-free hamburger takes forever. So if you get your food right away, it's not gluten-free.) Maybe that's why they used to require the "chef" to take the order at Tomorrowland Terrace?
Update: I contacted "Guest Experience Services" at Disneyland and suggested putting the allegy menus online. A very nice person got back to me and said she'd passed the suggestion along to their Web team. (So, I don't know if anything will ultimately come of that, or not.) She also gave me an email address for the "Special Diets" team at Disneyland.